Last Modified: January 5, 2013
Contents: Telemetrics; Temporary Mounting Schemes; Supplemental Restraint Systems; Clean Transceiver Mounting; Mag Mount Antennas; Minimize Distractions; Headsets; Vox & Speech Compression; Operating Menus; Logging; Mobile CW; Operating in the Rain; Odds & Ends;
No matter the price, no matter how new, the best safety device in the car is you!© Burma Shave®
The word Telemeter is defined as an apparatus for recording the readings of an instrument and transmitting the accumulated data by radio. The National Highway Traffic Safety Administration (NHTSA) uses an adjective form of the word telemetrics to describe the use of mobile communications devices. Although amateurs relate this to two way radios communications, there are other forms. For example, cell phones, mobile fax machines, e-mail, navigation systems, and other devices under driver voice command.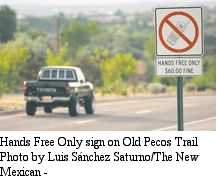 While some of these devices are more distracting than others (their basic design plays an important part), the cell phone is by far the most distracting. This fact has prompted some political entities to enact laws governing their use while underway. The city of Santa Fe, NM is one such entity. Within the city limits of Santa Fe, if you use a cell phone while underway, it must be operated in a handsfree mode.
At this writing, over 100 cities, the states of New Jersey, New York, Connecticut, California and the District of Columbia, have joined the ranks with anti-cell phone ordinances on their books. Typical fines range from $50 to $100 for drivers caught using a hand-held device.
The question you might be asking, what has this to do with amateur radio? The simple answer is, very few of the ordinances exempt amateur radio in so many words. New Jersey's law is an exception. In a few cases, the laws define what a personal communication device is, by stating it must be connected to the telephone network, effectively exempting amateur radio. This is not always the case.
In some jurisdictions, the law covers all means of distraction (putting on lipstick, or reading the newspaper for example), and give police officials sole discretion in the decision to write a citation. In these cases, we're driving on some very thin ice when we operate mobile-in-motion.
The most recent telematic activity to come under scrutiny is texting, and rightly so. It is, beyond doubt, the most driver-distracting activity imaginable. Laws against texting by drivers have been enacted in almost every state. The proposed national law, also includes specific mention of texting, and its growing statistics as a major cause of vehicular crashes.
The bottom line is, we should all be aware of the dangers some activities generate. We also need to be cognizant of our local laws, and operate accordingly.
Some forms of telematic use are intrinsically more dangerous than others, but this is not the complete story. Sloppy, hurried, and/or incorrectly installed amateur radio equipment can be just as dangerous.
I have always practiced and preached safe mobile operation. My OpEd article published in the April 2004 issue of QST on page 99, is a perfect example. As I stated in the article, the phrase "throw the rig in the car" has no merit. While I realize some of us do not have the where-with-all to own multiple radios for dedicated base and mobile use, this does not negate proper installation practices. The use of Velcro®, rubber bands, bungie cords, wedged in pieces of wood, and spring-loaded clamps are all accidents waiting to happen. Velcro® may grip well enough for the first few tries, but sooner or later its grip loosens. Rubber bands and bungie cords suffer the same fate, and spring clamps are just as suspect especially the plastic ones like those used to secure cell phones to mobile mounts.
Here is an excerpt from a post by Mark Brueggemann, K5LXP, which appeared on eham.net: If Velcro is so good, why don't automobile manufacturers use it? I think this mounting technique shows the loyalty of a car's owner, actually. It demonstrates a level of dedication towards the preservation of their cars to such an extent that they would rather risk injury or death, rather than drill any holes. My hat is off to them... Mark K5LXP, Albuquerque, NM
I've seen dozens of home brewed mounting brackets which incorporated well secured yet easily detached fastening devices. As you can see by viewing my Photo Gallery, necessity is the mother of invention. If you come up with an unique scheme, send me a brief description, and a few photos, and I'll include them in the Installs article.
One popular argument against any sort of permanent mounting is the handheld FM transceiver. Even though they can be operated stand-alone, external antenna and power connections add to their involvement toward poor operating practices. Even if a speaker mic is used to minimize this interaction, an unsecured handheld can become a flying brick in a crash.
Thankfully, amateur radio manufacturers have increased the number of transceiver models which can be remotely mounted. This places the heaviest portion out of harms way (if securely mounted) and leaves the control head. The most popular mobile do-it-all radios, are the Icom IC-706 in its various configurations, the Icom IC-7000, and the Yaesu FT-857D, and in that order.
All of these transceivers are shipped with a separation, and mobile mounting kit. The bracket for the transceiver is a U-shaped bracket, and the one for the remote head is nothing more than a flat plate which clips to the head. Except for a few nuts and bolts, no other mounting brackets are supplied, leaving the actual mounting scheme up to the user. Double-sided sticky tape seems to be the preference, with Velcro® a close second. The manufacturers shouldn't be faulted for this safety faux pas. Rather it should be the owners of these fine units who don't take the time to do the job safely, and correctly.
Supplemental Restraint Systems
Airbags, the common term for SRS devices, save lives when properly used in conjunction with seat belts. In fact, depending on where you sit in the vehicle, you're up to 30% safer than using seat belts alone. However, there is an insidious side of air bags too; they're not filled with air!
Some of the chemicals used to make them deploy are very dangerous. These include; cornstarch, glass particles, nitrogen, potassium nitrate, silicon dioxide, sodium azide (a Class A dangerous inhalant), sodium bicarbonate, sodium hydroxide, talcum powder, and several different oxides. Ranging from benign to hazardous, these chemicals are involved in exploding the airbag (typically made of nylon) in less than 200 milliseconds. That's about 200 mph! While the newest designs employ special circuitry to change the rate of expansion based on the severity of a crash, the above rapidity is a basic requirement. Note too, the term Supplemental Restraint System is descriptive. This means they are not a substitute for wearing a seat belt. In fact, not wearing a seat belt greatly increases your chances of sustaining severe injuries in a crash, including those injuries (or death) caused by the air bag itself. The point here is, they can save lives, or they can take lives.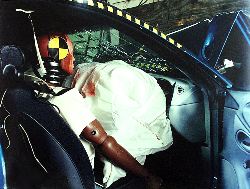 Far too many ignore the dangers imposed by air bags, by mounting their amateur radio gear (primarily remote control heads) in reach of an air bag. While few are dumb enough to mount their gear in the center of the steering wheel (yes this actually does occur), mounting heads on the dashboard can be just as stupid. Left is a photo of a deployed passenger side air bag in a Cadillac Escalade. This bag is about 30 inches wide and about 24 inches in height at its maximum extension. Depending of the actual crash dynamics and the size of the vehicle, it is not uncommon for the passenger side and driver air bags to touch during deployment. In other words, covering pretty much the whole dashboard.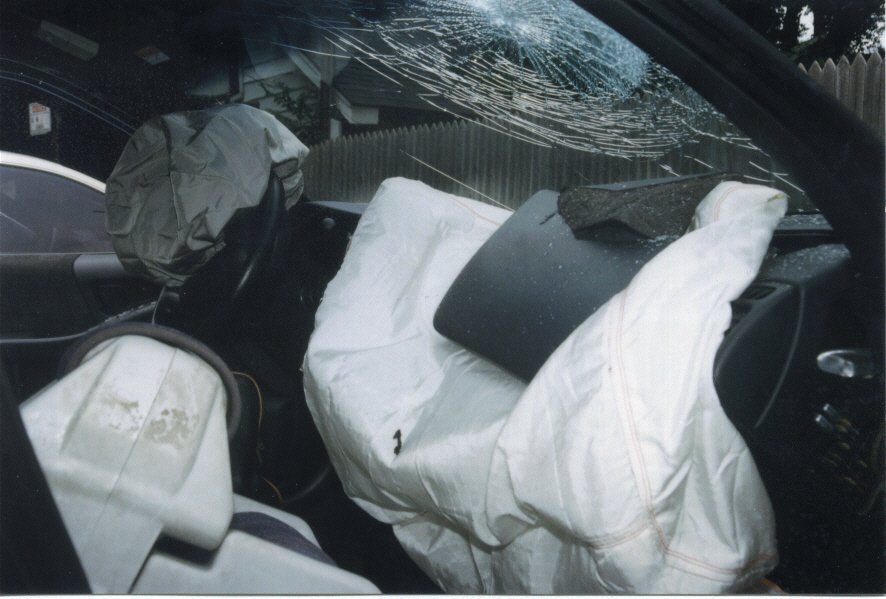 The photo at right, is of a late model GM product. The air bag inflated as a result of a minor rear end collision, which caused less than $300 damage to the front bumper. The interior damage, however, was extensive, and expensive! Please note the torn off piece of the dashboard laying atop the deflated air bag. Had there been a piece of amateur radio gear anywhere near the bag, it too would have been torn off. It is not evident in this photo, but shards of glass litter the interior as well. Fortunately, there was no one in the child car seat at the time. If you look close (far right-hand center), you can see that the fuse block cover has been dislodged just from the shock. Also note the broken windshield. These are typical effects of an exploding airbag.
As further proof of the dangers, here is a 2.7 MB wmv movie (used with permission of the NHTSA, National Highway Traffic Safety Administration) of an actual deployment. You need to play the movie several times to get the full effect. Note how many frames it takes for the air bag to explode to full size, and how far it reaches across the dashboard.
Side air bags present a danger too. Speakers for example, are often mounted in or around headrests within reach of side air bags. They deploy just as rapidly, flinging far, and wide any device in their path! Incidentally, most head rests are designed to break clean in certain crash scenarios. Obviously then, mounting speakers to headrest posts is not a good idea.
While finding a place to mount a radio can be difficult in some cases, and may require the fashioning of home brew mounting brackets, the effort is worth the peace of mind knowing that your radio gear won't end up maiming you if you're involved in a crash.

Some mobile operators disregard the aforementioned, and continue to mount their transceivers within reach of the passenger side airbag. Their reasoning is often based on the fact that some airbags deploy from the center of the dash, rather than the top of the dash. They ignore the fact that airbags must meet fed guidelines with respect to coverage area. Don't be fooled! Any hardware mounted atop the dash to the right of the steering wheel, is within reach of the passenger airbag!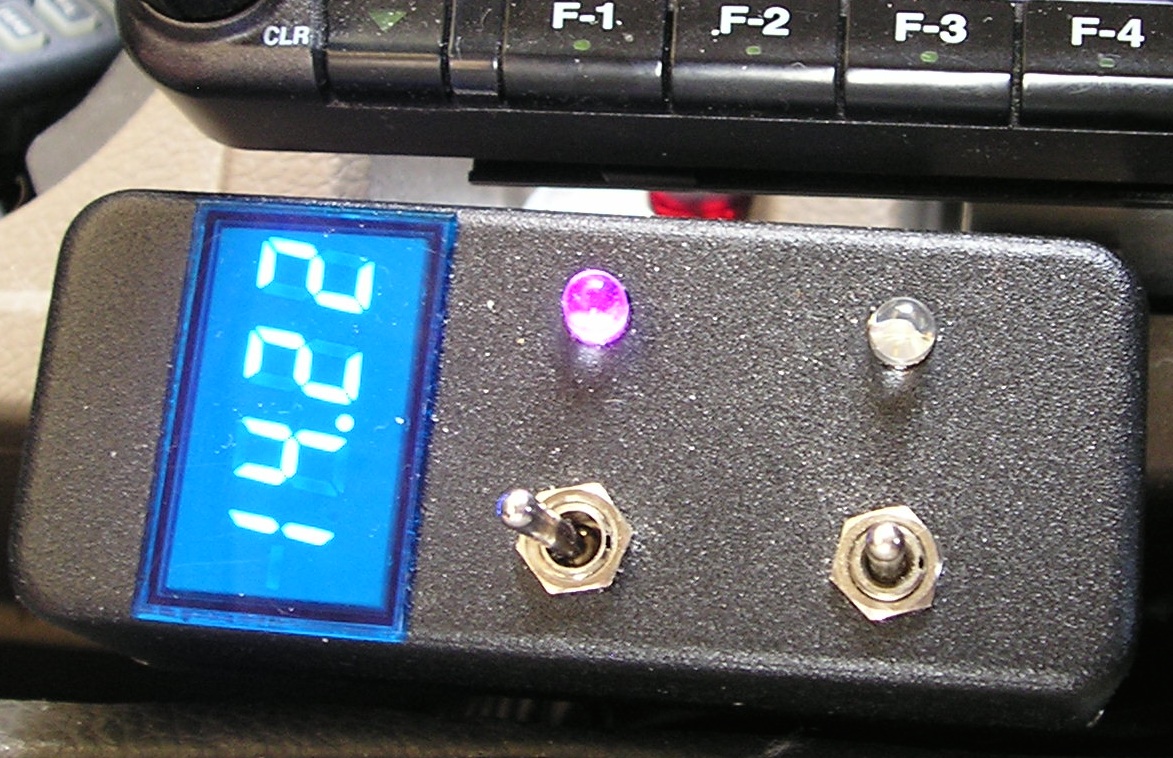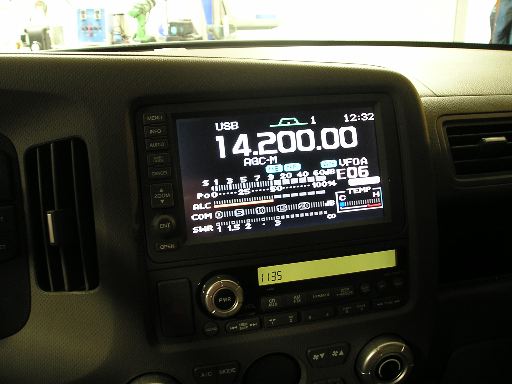 Finding a safe mounting position for your transceiver in today's vehicles is becoming more difficult due in part to the complexity of modern vehicles. The photo at left shows the mounting scheme of my IC-7000, and the remote control for the amplifier (there are additional photos in the Photo Gallery). Both are attached to the center console using a home-brew aluminum brackets, and affixed with sheet metal screws. Thus mounted, it is out of the way of all of the vehicle's controls, SRS devices, and therefore not likely to cause any additional injuries in the event of a crash.
Do your best to do a clean installation. This includes dressing your wires, and permanently mounting hardware. Accessory socket (cigarette lighter) connections, dangling coax cables, power cords, and mic cords can and do get tangled up. Wires running near vehicle controls should be securely fastened and clear of interference from or to them, especially microphone cords. This is true in the passenger compartment, under the hood, under the seats, or in the trunk. If the wires have to be exposed, cover them with slit ducting available from Radio Shack and Home Depot. Both of these retailers also carry tyraps, wire clips, and at least the smaller sizes of wire lugs. For bigger sizes, Fastenal is a good source. If you want some examples of clean installations, visit my Installs article. And read the Wiring article if you haven't already.

One unique feature of the IC-7000, is its video out. In my case, the video is fed to a TVandNav2Go converter, which displays the front panel on the Navi screen. However, a separate video screen could be used if mounted in a safe place. Places to avoid include the top of the dash, under the dash, or any position which shadows, or is in reach of, any SRS, vehicle controls or gauges. Or, you could just replace the rearview mirror. The unit shown is made by the AudioVox division, but others are available. Some models clip to the existing mirror, and may not be suitable for some vehicles. All current models are composite video in, and are compatible with the Icom IC-7000. Retail averages about $200, and some models come with a backup camera as well.
Forget about mag mounts. Just about an equal amount of folks have told me theirs has never come off as opposed to those who have. When your mag mount decides to dislodge, it will undoubtedly be during the worse driving conditions imaginable. I don't like trunk lip mounts either, but they're better than mag mounts especially in a crash. Read my VHF Options and Antenna articles for more information on safe antenna mounting.
Mag mounted antennas often cause another problem, and that's a ground loop. Typically in this case, the ground loop manifests itself as alternator whine impressed on the transmitted signal, and to a lessor degree the received signal. While a brute-force filter on the power cable may mask the malady, it is nothing more than a band aid.
A few years ago, I posted a thread on eham.net about a death in Ohio which was caused by a flying mag mount antenna. It dislodged as a result of a vehicle crash. I was openly chastised by one mobile operator, who alluded to the number of mag mounts in use, and to the single fatality, as good odds! I can't speak for him, but that's proof positive enough for me to permanently mount my mobile antennas!
Take every step not to be distracted. Some of us just can't walk and chew gum at the same time. Driving down the freeway at 60 mph, talking to your buddies on two meters, drinking coffee, and listening to the PBS morning news is a prescription for seeing your name in the morning papers. If traffic gets heavy, get off the radio! If your wife wants to discuss your latest ham purchase, get off the radio! It is a cold hard fact; The NHTSA says distraction has surpassed drunk driving as the leading cause of motor vehicle crashes and deaths. Don't become a statistic! If you've just got to have that rare DX station, then pull over on to a safe side street.

Recent NHTSA studies have turned up some rather interesting facts. Texting while underway (as I mentioned above), takes the cake for the most distracting of all telemetric use (we sort of knew that, didn't we?). Just as interesting, the use of handsfree cellphones does not reduce the distraction level! And just as odd, programming a navi system via voice, is just as distracting as typing in a destination. All of these crash-causing distractions are being addressed by our lawmakers. They better read the statistics too, because so-called cellphone laws haven't helped reduce crashes due to driver distraction, one iota!
The use of headsets use brings up an important legal issue. In many jurisdictions, the use of a headset (by the driver) is illegal, or at least limited. Make sure you know what your local laws allow. In any case, never use a two earpiece headset (or earphones) for very obvious reasons, legal or not.
Used properly, headsets offer a level of safe operating that handheld microphones do not. Aside from the earpiece which gives peace to your passengers, the microphone is always properly placed (about an inch from your mouth), and ready at a moments notice. Just remember to keep the cord out of the way of vehicle controls.
Not all headsets are created equal. Modifying a telephone headset is a questionable project. The impedances are not correct, and the audio quality is substandard as a result. Proper matching is especially important for Icom radios. Heil Sound makes a mobile headset designed to perfectly match the Icom's input requirements (models are available for Yaesu, Kenwood, and many others). It has a single earpiece, an adjustable microphone boom, and a PTT button in the cord. I use my Heil Traveler® frequently around town, and it is standard fare on trips. Because of the differences in audio quality, and gain offered by the Heil Traveler®, it maybe necessary to readjust your microphone gain and/or DSP settings (if any).
Another item to watch is the receive audio level. Headsets require far less amplification than speakers do. Being so close to your ear, excessive volume can, and does cause hearing loss. Just as a sidelight, here is an interesting site about noise pollution.
I personally don't recommend using VOX mobile, but if you do, please use a headset with a noise canceling microphone. Further, turn your anti vox to its lowest setting, and turn off your speaker. If you don't, you may encounter some receive distortion. You don't normally hear this when using a speaker in a quiet home setting, but in a relatively noisy vehicle it is very noticeable when using a headset.
The use of speech compression has become "the" major bane of amateur radio operation, mobile or otherwise. Most amateurs who use it do not know how to properly set the microphone gain and compression controls, or use it when it is not necessary (all of the time), and have a propensity to tell you what you can do about your splatter complaint. It is far too common to hear amplifier fan noise, the wife vacuuming, or the fact that the operator in question has a very bad cold, or at least sounds like it. Using speech compression in a mobile setting is even worse. The average passenger vehicle traveling at 60 mph has a noise level ranges from 45 dB to well over 65 dB. So every little nuance of engine noise, the AC fan, the kids in the back seat, and that squeak in the left quarter panel will be plainly heard. If you run a mobile amplifier, it increases the average current load enough, that in some cases the average alternator can't keep up. My advice is, don't use speech compression while operating mobile. Here's more on Transmit Audio.

Familiarize yourself with all of the operating menus, buttons, and functions. With few exceptions, most new radios intended for mobile operation have menu-driven controls. The new Icom IC-7000 is no exception. There are 22 separate controls, and most of them are multi-function. It pays to read and reread your manual until you can recite it verbatim. If you're planning a trip, preprogramming your rig with all of the intended frequencies is a must-do.
Most newer mobile radios (see my Miniature Radios article) have many more memory channels than most amateurs will ever use. My friend Lynn Drury, W5LLD, of Hobbs, NM, has programmed his IC-706 with the same frequency into several memories, but with different subaudible tones in each one. He's programmed his more commonly used HF frequencies as well. If you're not familiar with the 706, programming HF frequencies still allows you to use the VFO to override them if you need to QSY. I thought this was a superfluous exercise, until I tried it. You should too, as it reduces distraction.
Icom has added even more memories to the 7000, and separated them into banks further increasing their usefulness. What remains to be seen is the remote video capability of the 7000. Several manufacturers sell 5" LCD monitors for installation into a headrest. I can see all manner of these mounted atop the dashboard for easy viewing. This could be a dangerous undertaking. As least one manufacturer is designing a heads up display for the 7000. How they're going to accomplish this, I can't say. Done properly, it might be safer. Only time will tell.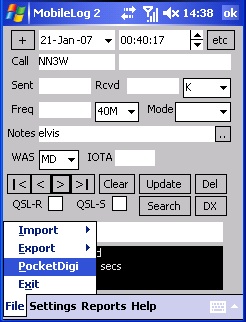 Contact logging is an important function if you're into awards. I personally use an Olympus VN-120 (similar to the DS40 shown left). It is a two-hour voice recorder that I bought at Target® in 2004 for $40. Since then, the price of these units have dropped drastically, and memory capabilities have increased by several magnitudes. Units with 576 hours of storage (one gigabyte) sell for as little as $30!
If you're operating portable or stationary, here is a site where you can purchase logging software for your PDA called MobileLog. It was written by Pat Rundall, NØHR, and sells for $29.95. There is also a 15 day free trial available. It is quite robust and should suit any mobile or portable operation.
I don't recommend using any telematic device that requires manual input (typing for example) while underway (perhaps you can ask your wife to do it). This includes laptops and text messaging cell phones. Your driving and radio are enough distraction.
Operating CW while underway is a conundrum I'll never understand (yes, I've done it, but I was much younger!). Copying CW is a chore for me even when I'm alone without any distraction. If there is any, my fair 25 wpm drops too far to measure. Yet I know several amateurs (Gary Atkins, WØCGR is one) who can carry on a conversation on CW, and talk to you at the same time. I don't know how he does it. I do know this, however, unless you're one of those guys, forget about it while operating mobile in motion!
People really do this?! The old proverb discretion is the better part of valor is certainly true in this case. Driving in the rain (snow, sleet, hail, etc.) also requires more attention from the driver, and this is a good reason to avoid it. If you must operate in the rain (during emergencies for example), it can be reasonably safe if you follow a few rules.
Rain static is the biggest headache while operating in the rain. It has several causes, not the least of which, it is a precursor to a lightening strike. It is caused by a build up of an electrical charge differential between the thunder clouds, and the ground (or another cloud). Once the charge is great enough, a lightning bolt is the result, along with a clap of thunder the discharge causes. Sometimes, the lightning bolt will strike an airplane, or even a vehicle! Don't laugh at this apparent rare event, as I have had it happen three times.
The first time (circa 1974) my UNUN literally blew up. The influx from the strike burned the safety choke in my amplifier, but thankfully did no other damage. The second time (circa 1978) the UNUN didn't get damaged, but my Atlas 215X needed a new first IF board.
The third time (May 2008), the ground side of the shunt matching coil had the solder melted out of it, and the whip and corona ball had to be replaced. The Icom 7000 was turned on at the time, listening to the local VHF weather channel. Funny thing, the hood turned bright blue with corona, but nothing on the vehicle itself was damaged. The effects, and aftermath, could have been much worse if the antenna hadn't been DC grounded to the chassis of the vehicle. This is one of the reasons a robust DC ground is an absolute requirement!
Rain static is also caused by slip-stream moisture flowing on the outside of the vehicle. You can easily tell the difference between precursor static and slip-stream static. Precursor starts low and builds in crescendo until a strike dissipates the energy. Slip-stream rain static is a steady hash. A static drain may help control slip-stream static, but is if no use for precursor static. Slip-stream static also occurs in very dry, dusty climates where it is worse at higher frequencies than low ones. Here a static drain works very well.
Rain also causes RF tracking problems to occur in mounting hardware and insulators. Applying car wax and polishes exacerbates the problem because most formulations are conductive in an effort to control dust build up. A liberal coat of RainX® is about your only hope. Even then, high power levels (amplifier use) will still cause insulator breakdown with predictable results.
Some antennas just don't like rain, and Hustlers® are the worse of the lot. Moisture seeps under the vinyl heat shrink tubing covering the coil. Continuing to operate when this happens will most likely cause the coil to arc, which turns it into a dummy load. Open bug catcher coils aren't much better especially if you don't keep them clean. For most loading coils, RainX® is still your best bet.
Snow, frozen rain, is worse yet. My advise is to stay home in front of the fireplace or the boob tube watching your favorite sport. I say this, because driving on slick streets, and trying to operate amateur radio is a prescription for ending up in the hospital.
Once upon a time, I operated mobile slowscan TV. I had a miniature camera mounted on the rear view mirror stalk. A Robot 1200C was mounted on top of an Icom IC-730, and a 5" inch color monitor above that. I wasn't paying enough attention one day, and got caught driving 70 mph in a 55 mph zone. So much for mobile slowscan. By the way, as I mentioned above about heavy loads when using speech compression, that goes double for slowscan. I worked a amateur recently who told me he ran RTTY mobile. Now that I have to see! Any of this is a much bigger distraction than should be undertaken by most of us, and this doesn't address the extra power requirements either.
As I stated above, some forms of telematic use are intrinsically more dangerous than others. The example of a micro handheld is a good one. Partly because of their size and the lack of button space, these microscopic wonders are menu driven. This means you have to take your eyes off the road to change almost any operating parameter. Ergonomically poor designs, and menu complexity add their part. In the two seconds you just used to reset the frequency, your 60 mph vehicle just traveled 176 feet or about 10 car lengths. Or put another way, about the distance a loaded SUV takes to stop from 60 mph If you're still not convinced, here is a 1.4 Mb file of what can happen when you're talking on your cell phone (or amateur radio) and not paying attention. Note the pedestrian in the upper left corner.
By the way, the pedestrian survived this horrible crash, as the indented side of the Ford Explorer was the part of the vehicle which rolled over him. He sustained multiple injuries, spent weeks in a hospital, and has lasting scars, both physical and mental.