Last Modified: April 30, 2013
Contents: Introduction; Basics; Power Output Level; Amplifier Kits & Foreign Imports; A Caveat On Finals; A Caveat on Drive Power; P&H; Heathkit; Metron 1000B; TenTec Hercules; Ameritron; Henry Radio; SGC; Tokyo Hy-Power; Odds & Ends;
The best amplifier advice in the world—fix the antenna first!
This article describes the various amplifier models currently available, new and used, along with a few caveats worth noting. It is not a complete list; only the most popular perhaps. There are a few things you need to be aware of when you purchase used ones, however.
DC power supplies for the old tube type amplifiers are nearly non-existent. When you do find them, the switching transistors are usually fried, and finding replacements is a hit and miss scenario. For example, most of these units (Heathkit, P&H, SBE, et .al.) used GE G50, germanium switching transistors, and they are nonobtainium at any price!
The P&H Spitfire, the SBE SB2LA, and several others of the era, used sweep tubes as finals. Sweep tube production ended years ago, so the few NOS units which are still available are not only expensive, they may be inoperable as well. For no other reason, I'd shun buying one unless you're a collector.
Manuals are another issue. Without them, some amplifiers are all but impossible to hook up correctly. Most used ones don't come with manuals, and when they do they're usually unreadable copies. If this is the case with your pending purchase, I suggest factoring in the cost of a factory manual if one is available. For older amplifiers, the BAMA site is a good source.
It should be emphasized, that adding an amplifier shouldn't be a hit or miss scenario; It should be well planned, and the plan well executed. If you don't, you're going to have problems, some of which will be very difficult to overcome. A good example of this is the lowly ground loop, manifesting itself as RFI. This, and other pitfalls, will become evident as you read the articles. Further, Common mode current problems are exacerbated when using an amplifier, further complicating antenna installation. If you're using a remotely tuned antenna, and/or an automatic controller, the requisite motor and/or reed switch leads choke(s) must be very robust. These highlighted articles explain what is needed to assure an RFI free installation.
If you want to get the best out of your amplifier, then read the Amplifier Care & Feeding, and the Wiring articles. If you don't, you'll most likely have serious electrical problems. Remember, a decent mobile amplifier, and the transceiver driving it, will have a peak amperage draw hovering around 100 amps! That fact shouldn't be taken lightly!
It is important to properly match any HF mobile antenna, and is of extra importance when running an amplifier if minimizing IMD is a goal, which it should be. Keep in mind, it is difficult to maintain FCC mandated IMD levels on any solid state, RF amplifying device which operates on a nominal 12 volts DC. Once the SWR exceeds about 1.8:1, the IMD level will exceed the mandated limit in most cases. Remember, it is still the individual amateur who is responsible for maintaining spectral purity.

With one exception, all tube amplifiers were designed for use with transceivers which utilized grid-block keying. This fact makes them incompatible with modern, solid-state transceivers. A few can be modified, but to be honest, the effort isn't worth the expense.
Mobile amplifiers have been around for many years, and with the advent of high-power solid state devices it has become common place. But running high power mobile isn't as easy as most amateurs think. There are the obvious things of course, and there are other less obvious ones which are often overlooked. These include, but are not limited to alternator amperage ratings, amplifier brand, antennas, batteries, mounting, placement, remote controls, and wiring.
What appears here are amplifiers that were designed for mobile amateur service, and met the FCC requirements at the time of manufacture. There are certainly others to be sure, but the vast majority of these were not designed for amateur use. For example, between 1970 and present day, there has been about 200 companies making solid state mobile amplifiers with the CB crowd in mind. Admittedly, some of these units were well made and a few had switchable bandpass filters. My only suggestion is to stay away from these units, as all of them are technically illegal under Part 97 due in part to their lack of spectral purity, and lack of FCC certification. This includes the so-called amateur amplifiers made by Worth-More, and Skywalker, regardless of what their web sites proclaim. While the rules have changed, it is still the individual amateur who is responsible for maintaining spectral purity! That fact is the reason not to use unfiltered CB amplifiers on the amateur bands. If you do, you're on your own!
In 2006, the FCC changed their rules to once again allow amateur amplifiers to cover 10 meters. Some manufacturers have stayed with the previous practice of requiring a copy of your license before modification instructions and/or parts are supplied. Other have made sure their amplifiers will not amplify input signals between 26 and 28 MHz, as the new rules dictate.

Some provision for bypassing an amplifier is needed during the tuning function of any remotely-controlled antenna. Violating the rule can cause damage to both the amplifier, and the antenna, protection circuitry notwithstanding! If your controller doesn't have the means to do so, here is a way to do it inexpensively.
Presently, all made for mobile amplifiers output a nominal 500 watts PEP, or a bit less. Running more than 500 watts out can be done. In fact, I know several people who use an ALS-1300 mobile, powered by a variety of subsystems. But once you get past 500 PEP, things start to get rather difficult. One limiting factor is the antenna. Contrary to published specs, precious few HF mobile antennas will actually handle more than 500 watts PEP, much less a dead carrier, unless they're poorly mounted (having a dominance of ground losses). But that is not the only limiting factor. All on-board electronics are vigorously tested to assure their survival in high RF energy fields. However, when the wiring between the various on-board devices is exposed to high levels of RF, the signal paths can be disrupted causing all manner of glitches. Some of these glitches (ABS controls for example) can be dangerous to your health in ways RF never could on its own!
The opening statement to this article is the first rule: The best amplifier advice in the world; Fix the antenna first! This includes, but it not limited to, proper mounting. The more ground losses present, the more trouble you'll have with RFI ingress. As the power goes up, the problems escalate to the square. Here is why. Every junction of every solid state device functions as a square law detector. That is to say, the strength of the RF signal detected, increases or decreases to the square of the RF level at the junction detecting the signal.
If you plan on running more than 500 watts PEP, more power to you (pun intended)! Just remember, besides upgrading the antenna and its mounting, bonding, beading, and bypassing become a necessity along with extra care in wiring.
Amplifier Kits & Foreign Imports
There are a few companies offering amplifier kits (Worth-More, and Skywalker), and both have come under FCC scrutiny. The reason is, any amplifier offered for sale in the US must have an FCC certification number. It matters little if they're offered as kits or not. Nonetheless, these amplifiers find there way into the hands of amateurs looking for a bargain. Problem is, the vast majority do not have output filtering, and those that do are poorly designed.
There are a number of foreign companies offering so-called amateur amplifiers (they're really CB amps for domestic sale), with RM of Italy being one of the biggest. For the most part, they don't have output filters either. One of their models is advertised as having output filters, and indeed it does. However the filter is only three sections (not nearly adequate), and has a cutoff of 40 MHz. The front panel band switch is just for looks. Even worse, the amplifier is advertised for SSB use, but is actually biased class C.
As mentioned above, you're responsible for maintaining spectral purity. While rare, the FCC has levied fines against amateurs for using these unregistered devices. From my point of view, the low cost isn't justifiable in any situation.

For those in the I just can't help myself category, Ameritron offers the ARF-1000 RF Harmonic filter for $160. Although rated at 1000 watts PEP (400 watts CW), that rating depends on the amplifier it is used with (harmonic content), and the SWR of the load. As Ameritron states in the manual, power out may drop 40% or more with the filter in place. If this is the case, then the harmonic content would still be higher than Part 97 rules dictate. If you're contemplating buying an ARF-1000, download the manual from their web site, and read the warning therein.

Unfortunately, far too many amateurs use non-filtered amplifiers. They justify their use by saying, "...I'm just using it mobile..." While that may be true, the IMD these amplifiers generate pollute the amateur bands we all share. This is especially true of larger models using up to 16 transistors. Just remember, it is the individual amateur who is responsible for his/her spectral purity, not the manufacturer!
Honest-to-john, Motorola® manufactured, MRF454 transistors are nonobtainium! However, it is not uncommon for replacements from other manufacturers to be dual labeled. For example, the 2SC2290 is a very close replacement part for the MRF454, and are often labeled with both part numbers. However, the input, and output impedances are different. As a result, they are not plug and play, and some circuit modification is universally required. Sometimes this is easy, sometimes not. The bottom line is, before you buy a used amplifier which uses Motorola® MRF454s, make sure it works properly (this eliminates ebay® as a source). You should also note which finals any particular amplifier uses, as some, like the SG500, have used more than one type during their production cycle.

When tube-type mobile amplifiers started to appear in the late 50s, most used one of the various sweep tubes commonly used as horizontal sweep oscillators in color television sets, hence the name. Sweep tubes were also used by transceiver manufacturers as finals (Drake, Swan, et. el). As noted above, sweep tubes are no longer manufactured. Even when you find NOS parts, they typically do not work (glass enveloped tubes do not have long shelf lives). This leads some amateurs to use their audio-equivalents as finals. The swap is seldom, if ever, viable. My advice is simple; don't purchase any sweep-tube equipped amplifier, unless you're a collector, and know what you're buying!
As stated above, the Amplifier Care & Feeding article is a must read if you want the best out of your amplifier. However, there is another, perhaps esoteric caveat related to drive power which should be mentioned.
Most mobile amplifiers are hard pressed to deliver their advertised power ratings at a nominal 13.8 volts, yet maintain a reasonable level of FCC mandated IMD (spectral purity). The level of IMD is related not only to driver power, but voltage stability as well. Even if we use a second battery, and large wiring to increase voltage stability, there will always be some sag. Overdriving is one reason, but there is another; the use of speech processing. Using it causes the average power to increase (up to 6 dB), even though the PEP might remain the same. Most of the time, the PEP drops due to voltage sag, and the net result is increased IMD.
Therefore, any increase in average power can (usually will) stress the electrical system in most vehicles. Remember, even though your alternator is rated at say 130 amps, its continuous rating is perhaps 30% less or about 90 amps. It also increases the heat sink dissipation, causing some amplifiers to shut down, or fail altogether.
Speech processing also increases the background noise heard on the other end, especially when not properly adjusted, which 95% of them are not! There is more information on speech processing here.

While a little off the subject, there are several manufacturers who make devices to control OEM alternator output voltages. They're very popular with the CB crowd who use illegal amplifiers. The idea is, with increased DC input voltage, the output power will increase. It does, but the IMD goes through the roof! Further, some OEM electronics are hard pressed to handle the extra voltage, and can fail as a result. Imagine replacing the electronic instrument cluster of a Honda Ridgeline? All $2,700 dollars of it! If that isn't enough, charging your average SLI battery at 16+ volts, could cause it to explode! Think about these facts before you buy!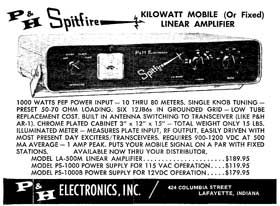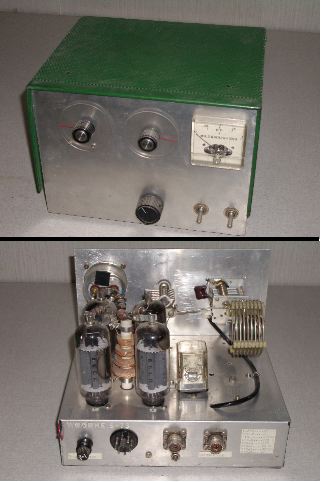 In 1963, P&H introduced the Spitfire mobile amplifier which used six, 12JB6 sweep tubes. Output was about 500 watts PEP. The toroid transformer in the DC power supply, is switched by four G50 transistors, and the output was one amp at 1,000 volts. I cannot say it was the first mobile amplifier on the market, but it was close. Note that the power supply cost almost as much as the amplifier itself.
Nowadays it couldn't pass the FCC's requisite IMD ratings. Fact is, neither could most of the commercial base amplifiers of that day. The 12JB6 finals were rare then (the 6JB6 was the norm), and are nearly impossible to find today. Converting them to some other sweep tube, is a waste of time and resources, as all sweep tubes are virtually nonobtainium.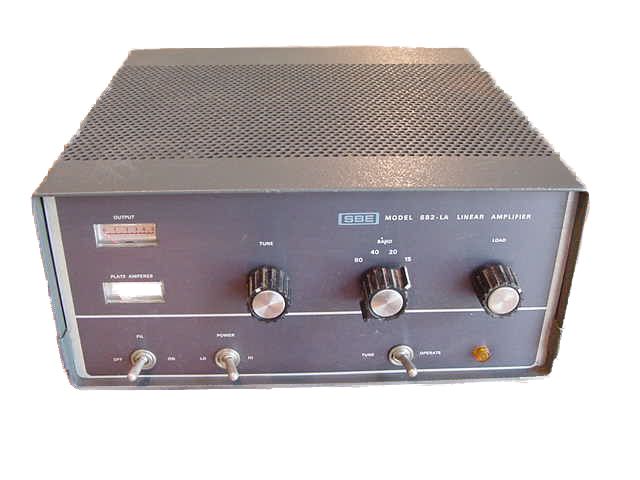 At the Dayton Hamfest in 2012, a P&H Spitfire was sold complete with both power supplies for an astounding $1,500! I'm sure this is the exact unit sold on ebay a few years ago for half that amount. It was (nearly) brand new, and in original cartons. This is an insane amount of money, collector status or not!

The PS-1000B power supply (1000 volts at one amp) was what I used to power my first homebrew amplifier which used four 6KD6s in grounded grid configuration. The circuitry for this 20 meter mono-band amplifier (photo above left), was a modification of one published in the 1972 ARRL Handbook. With the supply voltage at 14 VDC, it would output about 450 watts PEP. I used it for nearly 4 years, and it helped me work my first 100 DX stations.

Heathkit introduced their HA14 in 1965. This amplifier used a pair of 572Bs in GG and was designed to fit on top of their popular SB100 series. Similar in basic design to the SB200, both AC and DC remote power supplies were available. I used one as a base amplifier, after giving up trying it mobile.
The DC supply was a voltage-doubler type, and had a peak output of ≈ 1,500 volts at≈ 500 mils. Power out was a mere 350 watts PEP, although it would nearly double this on the AC supply. Using ALC was a given, as full output took just 60 watts of drive. If you didn't use ALC, the internal 40 amp circuit breaker would trip, or you'd blow (usually) all four of the switching transistors. I suspect this is one of the reasons Heathkit only made one production run of the amplifier.
There are a few things you need to be aware of. First, the output loading is fixed, which means it doesn't do well with loads over 2:1. The meter only shows relative forward and reverse power, and there is no voltage, grid current or plate current monitoring. Even worse, there was no cooling fan! Add in a little mobile vibration, low filament voltage under load, and tube life was rather short!
There was one sold at the Dayton Hamvention (2008), complete with AC power supply, for $600. This was an outrageous price even if it had been in as-new condition, which it wasn't. Incidentally, when this amplifier was introduced, the new price for a pair of 572B/160Ls, was under $20! Speaking for 572Bs. There is now just one manufacturer (Chinese), as Svetlana has ceased production, albeit a few NOS units are still in distribution. Considering the lack of sturdiness the Chinese tubes exhibit, I certainly wouldn't consider them for an HA-14.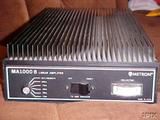 There was a rash of solid state amplifiers introduced in the early 70's based around the popular Motorola MRF454. One of these was the Metron 1000B. This amplifier was also known as a Transworld MA1000. It used four, two device modules with combiners and 6 bandpass filters, and could be fully remoted. Although the WARC bands were not listed on the bandswitch, it will cover them handily. It operated from a nominal 14 VDC. It had several drawbacks. There were no cooling fans and unless you wanted to replace the finals on a regular basis, you had to add fans. The input circuitry used swamping resistors to reduce the drive power to the finals. I replaced mine numerous times and this is one of the reasons why I sold it. I never did replace any of the 454's. It is a good thing they are rugged transistors as they are impossible to find nowadays. If you find one of these used, make sure it works perfectly.
Used prices hover around $225. Depending upon the serial number and when it was made, some models of this amplifier may be refit with current production finals (2SD2290s). Unfortunately, Datron World Communications, no longer services these amplifiers, including manuals, parts, etc., so save your e-mails and phone calls.

The optional factory remote control is all but impossible to find these days. Duplicating it isn't difficult, but some provision for keying with modern made-for-mobile transceivers is a requirement.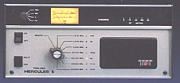 I don't know the actual introduction dates, but the TenTec Hercules I and II are still very popular mobile amplifiers many years after their production has ceased. They are remotable, they have cooling fans, and they're relatively compact. They use MFR458 finals (MRF422s in the Hercules I) which is a drawback. Another drawback is its power connection. The Cinch-Jones style connector is not up to the task of handling 80 plus amps, and as a result you often see used ones which have been modified for a more robust connection.
Whether the Hercules II can be modified to use the Toshiba 2SC2879's (MRF458's closest replacement) depends on the color code of the original transistors. It is a moot point, however, as the upgrade cost is very high.
Used prices vary widely with $400 being the low for fully functioning Hercules Is, to upwards of $850 for Hercules IIs. Lastly, TenTec is no longer providing factory service on the Hercules models because some important parts are no longer available. For more information, contact them directly. TenTec, 1185 Dolly Parton Pkwy, Severville, TN, 37862-3727. Their number is 865-453-7172.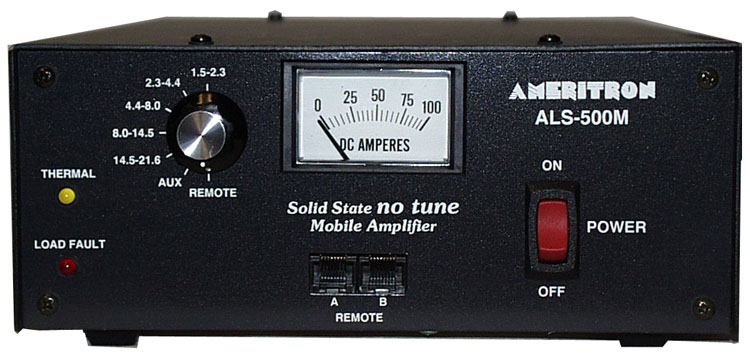 Circa 1990 Ameritron brought out their ALS-500 mobile amplifier. It uses four 2SC2879's and has a built in fan, high SWR and thermal protection. On early models, only the on/off operation was remotable with band-switching done at the amplifier itself. Later models can be fully remote controlled with the addition of the remote head. Retrofit kits are available for some early models.
One drawback to the ALS-500 is the power connections. Early models used pigtails (2 for B+, 2 for ground) which is not an ideal scenario. Later models utilize a Cinch-Jones type connector, but only two pins for each connection is used. This isn't ideal either. If you own one of these, you might want to connect up the four unused pins thus making the power connection more robust.
The input circuitry uses 12 metal oxide swamping resistors, in series with the 2 input transformers; a common practice. If you overdrive the amplifier (>60 watts), in time, these resistors increase in value, resulting in blown finals. If you haven't already, you should read the Amplifier Care & Feeding article to avoid the scenario.
Weight is 7 pounds; the lightest of the lot. The two examples I've bench tested only delivered 425 watts PEP into a dummy load (at 13.8 VDC) which is a little short of their rating. The MSRP is $899 with a street price of about $790. The remote head is $50, and the owner-installed 10/12 meter mod is $30. It was marketed under the Vectronics name as well. I recently saw a Vectronics-labeled one advertised for $295. The finals sell for $48 in matched pairs. Ameritron, 116 Willow Rd., Starkville, MS 39759. Their number is 800-713-3550 for sales, 662-323-8211 for service.

The ALS-500 has gone through several iterations since the company was founded by Denny Had (K8KXK, now W4USR). He didn't design the amplifier, that was Tom Rauch, W8JI. In spite of its light weight, it will perform well as long as you follow the guide line in the Amplifier Care & Feeding article. Although it has an internal fan, it still needs adequate ventilation. The remote control option isn't all that good, if for no other reason than is is too large (plus the ammeter is worthless). With few exceptions, a keying buffer (ALS-704 or similar) is required.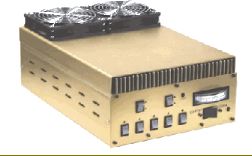 Henry Radio used to make two rather robust mobile amplifiers, the SS750 and the SS1200. Both cover 160 through 10 meters. The SS750 uses eight 2SC2879's and runs on a nominal 14 VDC. Retail price was about $1,400. If you can supply enough current it will put out an honest 750 watts PEP. Like its big brother, it is remotable, has built in fans and is thermally protected. In my opinion, it is also ugly. Used SS750s sell for about $650 to $800 depending on accessories.
The SS1200 runs on 28 VDC ,and used eight MRF422's. Retail price $2,400. This price did not include the remote manual or automatic band change mods. While Henry's base amplifiers used to set the standard, the reader can set his/her own opinion whether this is the case with their mobile amplifiers. I've never seen or heard an SS1200 on the air, and considering the cost of a 12 to 24 volt inverter, I might not ever!

As of February 2005, Henry has quit making amplifiers of any kind. They still imported some VHF ones, but that ceased in 2009. Their repair facility is reportedly still in operation, but only on select models. Henry Radio is located at, 2050 S. Bundy Drive, Los Angeles, CA, 90025-6123. Their number is 310-820-1234.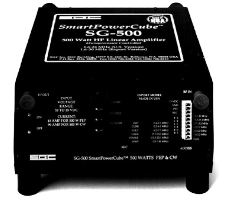 My favorite mobile amplifier is the SGC SG500 Power Cube. It uses eight 2SC2290's and covers 160 through 10 meters. Its MSRP price is $1,425. It is thermally, over current, under voltage, high SWR, overdrive, and module imbalance protected. A fan kit is available (MSRP $220), and is recommend especially for trunk mounting. A remote control head is also available (MSRP $65), but really not needed as you can build your own remote control.
With its optional fan kit its about a foot square and weighs 25 pounds. It offers seamless integration with the SG235 auto-coupler which is a plus for those who like to QSY a lot. Typical output is 500 watts PEP with about 30 to 50 watts of drive depending on the band. Much more than this and the automatic input attenuator kicks in. Although it has an ALC output, it is positive going which means it is incompatible with any transceiver including SGC's. Finals cost $45 for a matched pair (see cautions below).
It is important to note, that earlier versions of this amplifier used MRF454 Motorola transistors. Upgrading an older model to the newer 2SC2290's is possible, but rather costly. If you find a used SG500 with the old finals, either make sure it operates perfectly (difficult to do), or forget about it. The last used one I saw, sold for $1,000 with the fan kit.
The SG500 has two very unique, selectable features for an amateur power amplifier. One of those is automatic band selection, which is the preferred method, even when using the factory remote control option. Here is how it works. The CPU controlled circuitry detects the presence of RF, measures the operating frequency, selects the proper bandpass filter, and keys the transfer relays. Having automatic band selection is very handy if you QSY a lot, and there is never a chance of using the wrong bandpass filter which could potentially damage the bandpass circuitry. The only drawback is a slight delay when first transmitting (250 ms), although re-keys take about 100 ms
The other unique feature RF keying (factory disabled, but easily re-enabled). It is the only amateur amplifier with this feature. While convenient, it is not the stuff of champions. Besides the filter select delay, RF keying adds another 100 ms to the key down time. Just as important is the 500 ms receive delay after key up (a VOX nightmare!). It should be obvious that PTT keying is the preferred way.
The best part is, the two features are independently selectable. Thus PTT keying may be used along with automatic band selection. The keying voltage is 4.3 volts at 2 mils which means it can be switched directly by an Icom IC-706, or IC-7000 (and select Yaesu models like the FT857) via the HSEND line
PTT keying of the amplifier is a requirement if you are using an SG235 auto coupler. Using the automatic keying circuitry built into the SG235 prevents the amplifier from operating until the coupler has found a match. The coupler's built in PTT circuit has an input current of under one mil, and thus compatible with most miniaturized radios. However, be advised that the SG235 PTT output needs to be buffered if any other amplifier is used in place of an SG500. SGC, 13737 SE 26th St., Bellevue, WA 98005. Their number is 800-259-7331.

As noted above, the SG500 can be remotely controlled. Whether you opt for the factory remote control, or you build one, there is one important caveat. Power for the remote control is taken from a four pin header plug. Pin four of that header plug is supply voltage. Although that pin is protected by an internal 5 amp fuse, if you short the pin to ground, a circuit trace will fail before the fuse open. Thus, extra care needs to be taken to make sure this pin is not shorted to ground as the repair is both tedious, and time consuming. It's expensive too if the factory does the work!

The SG500 has been out of production for well over a year awaiting a redesign (due to the unavailability of the 2SC2290 transistors). Although SGC asserts that the redesign is nearly complete, other industry sources say it is DOA. I trust it isn't.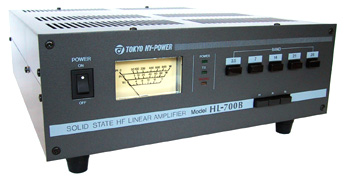 Tokyo Hy-Power's HL-700B is no longer made. It used eight proprietary THP-120 transistors, covers 80 through 10 meters, and outputs 450 watts PEP although it is rated higher. They are interesting in that they have a switch selectable 10 watt or 100 watt input rating which makes them compatible with the IC703 and similar QRP rigs. They can be RF or PTT line controlled, and are remotable. Their protection circuitry is very robust. Its only drawback is that it looks tinny, but at almost 18 pounds it is far from it.
It sold factory direct for about $1,000 plus $225 shipping and handling. The finals are still available from THP, and a matched pair sell for $40. Tokyo Hy-Power maybe contacted at info@thp.co.jp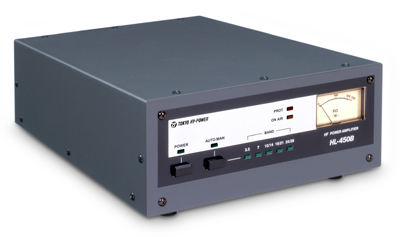 THP has a new amplifier on the market, the HL-450B, which has a street price of $1,240. It is rated at a nominal 400 watts, but the factory specs say 350 typical, and 300 minimum (voltage dependant). It uses just 4 of the THP-120 proprietary finals. Some may bulk at the reduced output (compared to the HL-700B and others), but in the real world the difference is all but nil. Since it draws a maximum of 60 amps, and weighs just 11 pounds, it is better suited for some installations, especially compact vehicles. By the way, the HL-450B has the highest dollar per watt rating among all currently available mobile amplifiers.
One advantage it has over the HL-700B is its interface capabilities. Just like its base station counterparts, cabling is available for all of the popular mobile radios. This means the amplifier's bandpass filters and keying is via the transceiver in question, and no interfaces are needed. Although a remote is available, it really isn't needed. In fact, a remote control for the power and reset is very simple, and easy to build.
It has another unique feature, and that is negative going ALC! The HL-450B is the only amplifier designed primarily for mobile use with this feature. This is of added benefit as the amplifier only needs 50 watts of drive for full output. Protection features include high SWR, over-current, over-voltage, over-drive, over-temperature, and incorrect band selection.
If you're in the market for a mobile radio, and an HL450B amplifier, here's a suggestion. Buy a Kenwood TS-480Hx. It puts out a honest 200 watts PEP, and the ≈one dB difference will never be noticed by the guy on the other end. It is easier on the electrical system too.
Here is a bit of good news for us high power enthusiasts. Later this year (2013), a new mobile amplifier will be announced. Nominal power output will be in the 700 to 800 watt range. It will be fan cooled, remotable, with fully automatic band selection, and compatible with most designed-for-mobile transceivers (plug and play). Considering the manufacturer, it will not be inexpensive. Based on their other model, I'd guess in the $2,000 range. I have to admit this sounds expensive, and to be sure it is. However, a bit deeper look is prudent.
It is important to remember that designing any solid state amplifier is not an easy undertaking, especially so when the supply voltage is a nominal 13.8 vdc! Meeting the FCC spectrum cleanliness, as well as today's market-required Plug & Play hookup, dictate a higher selling price than current competition. Considering the other built-in features this new state-of-the-art amplifier will have, it may prove to be a less expensive alternative overall. Stay tuned!