Last Modified: February 17, 2013
Contents: Wiring Caveat; Basics; Most Prevalent Cause; Common Connections;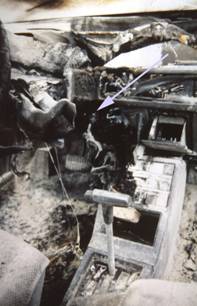 Vehicle wiring fires are the costliest repairs on the books! Even a brand-new luxury vehicle can end up on the scrap heap as a result of a wiring fire; they're that costly! One major cause is overloaded accessory sockets, or what used to be called cigarette lighter sockets. They were designed originally to be used intermittently, but nowadays just about every mobile devices made is plugged into one. While properly (?) fused, the wiring is undersized (typically #16) for full-time loads. Adding some insult, most plugs made to be used with them, use spring pressure to hold them in. The resulting poor connection can cause overheating, with predictable results.
Yet, MFJ has come up with a device which they claim will safely power a 100 watt transceiver while plugged into an accessory socket. In my personal opinion, this is an incredulous advertising ploy with no merit! If you use one, or plan to use one of these devices, please keep the aforementioned in mind.
If you haven't already, now is a good time to read the Wiring article.

Just for the record. It isn't always the wiring size, or the fuse protecting that wiring, that is the main limitation of accessary socket wiring—it is the contact resistance between the plug, and the socket. Read the wiring article for more information.
Proper installation of antennas, radio gear, and wiring are the key issues for preventing ground loops.
If there were but one bane in amateur radio, it would be the ground loop. Although they may appear in any type of installation, they're more often found in mobile ones. In any case, too many amateurs don't know what a ground loop is, or what causes them to occur. Even rarer, is the ability to recognize that a specific problem is caused by one.
The term Ground Loop in itself isn't very descriptive, but here's a stab at it with credit going to Mr. Webster: An unwanted electric current path in a circuit resulting in stray signals or interference, occurring, e.g., when two earthed points in the same circuit have different potentials. Please pay particular attention the last few words: ...when two earthed points in the same circuit have different potentials. Another way to look at this is, one is a better ground than the other. Or, one has a lower resistance path back to the power source; the battery in this case.
Most vehicle manufacturers, Ford, and GM among them, recommend that both leads (positive and negative) go directly to the battery and/or jump points, and properly fused (both leads). At a minimum, the negative power cable lead should be tied to the same point as the main battery's negative connection to the chassis of the vehicle in question. If the vehicle is equipped with Jump Points, these can be used instead of direct battery connections. In the latter two cases, the negative lead of the power cable needn't to be fused.
However, it should be noted that vehicle battery cables typically have two standard negative leads. The main one (bigger of the two) goes directly to the starter motor housing, or very near it. The other lead (always smaller) is connected to the chassis of the vehicle. The former is to lessen the losses to the starter motor, the latter to provide a return for the various on-board electrical loads (headlights, accessories, etc.). Hence, there is a case to be made about overloading the accessory ground, especially if you're running high power (amplifier use). If you do use an amplifier, direct connection to the battery is your only alternative in most cases. Again, pay particular attention to the caveats in the Wiring article, especially if you own a late model (≧2012) Ford product.

If you decide to connect the negative lead to the nearest chassis ground point (seat support, trunk brace, etc.), there will be a difference in resistance (typically three to five ohms) between any of these points, and the battery's chassis ground. This will cause a large voltage drop to occur under load, which is reason enough to follow vehicle manufacturers' recommendations, regardless of the potential for ground loops.
If I had to choose just one example of a ground loop, it would be the presents of alternator whine. Especially so when it only occurs, or predominantly occurs, in the transmitted signal. In some cases you can mask the whine by using a brute force filter in the positive lead. Besides the additional I2R losses incurred, it is a band-aid rather than a cure. While a bad or leaky diode may cause alternator whine to occur, the truth is, it is a very rare occurrence.
In the whine cases I've been involved with, there are usually three common themes, alone or in combination. First, power is taken from the vehicle's wiring rather than directly from the battery. Two, the negative lead was connected to the nearest chassis ground point (seat frame for example) rather than directly to a battery ground. Three (and most common), the use of a mag mount antenna.
It should be apparent that direct battery connections should be made, at least the positive connection, as using existing vehicle wiring is fraught with problems. This includes the use of Accessory Power sockets as neither the wire size nor the fusing are adequate for any HF radio.
If you're using a mag mount antenna, and you have whine on your transmitted signal, try this. Replace the antenna with a dummy load. If you can still hear the whine on a near-by receiver, the problem is in the DC wiring, or the alternator (albeit doubtful). If you can no longer hear the whine, then ditch the mag mount and drill the necessary hole.

I have always been in favor of common grounds, and common power supply points. Doing so, lessens the possibilities for ground loops. One way to do this is to use a RigRunner® or similar common connection device. Just remember, the RigRunner's power cable needs to be fused very close to the battery connection points.
Some amateurs tend to go crazy installing DC grounds on every single piece of installed gear as if God commanded it so. One common practice is to ground the transceiver's chassis to the nearest hard point. If this cured a problem (ground loop or RFI related), then something else in your installation was amiss, and it is usually a poor coax connection or ground plane issue.
It is assumed that most vehicle manufacturers scatter ground connections hither and yon throughout the vehicle. That is not the case. While there are multiple ground connections made, the same ground points are used for any given sub-assembly. For example, there are no separate grounding points for each headlight. Indeed, they're common. Another way to look at this is, if power for more than one device comes from the same supply point (relay, switch, battery, etc.), then the grounds for those devices should also be common. In case you missed the point, this is to lessen any potential for a ground loop (pun intended).
If you cause a potential to appear between two factory ground points (e.g., ground lead to a seat frame, positive lead to the battery), the resulting ground loop may manifest itself as an RFI problem. This is especially important when high currents are involved (amplifier use for example). Split beads, brute force filters, and ground straps ad nauseam, won't cure the apparent RFI simply because RFI is not the cause!
The most important point that can be made in preventing ground loops is to use correct wiring practices. Not only are direct battery connections necessary, adequate sized conductors and fuses are also required. The truth is, most factory supplied mobile transceiver power cables are barely adequate for the load. Extending them just adds insult to injury, unless you're using a RigRunner® or other device equipped with over-sized cabling.

If the wiring is inadequate (albeit directly connected to the battery), allowing excessive voltage drop under load, a ground loop can be the result. The reason why this is so, is rather complex, but has to do with factors discussed in the third paragraph of this section. Thus, as mentioned in the wiring article, the voltage drop, under full load, should be kept below .5 volts.