Last Modified: February 21, 2015
Contents: Introduction; History; Weird Things;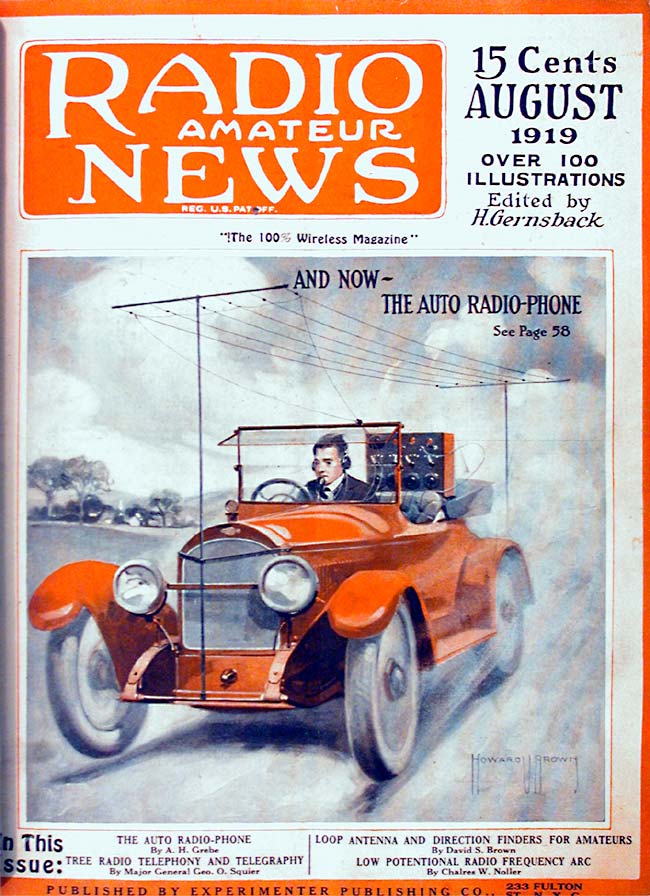 Amateur mobile operation has been carried out almost from day one, as the cover of the August 1919 issue of Radio Amateur News, published by Hugo Gernsback, attests to. Another good example were the ships at sea. After the Titanic sunk in 1912, radio equipment became a requirement aboard all ships at sea. Back then, all of the transmitters were broadband spark units, and took up a lot of space (both physical, and bandwidth wise). Although Lee De Forest received the credit, it was John Ambrose Fleming who invented the first practical electron tube (Fleming Valve) in 1904. Yet, it would be nearly a decade before tubes came into wide use. Tubes certainly reduced the overall bulk of the equipment, however size was still the biggest stumbling block with respect to mobile operation.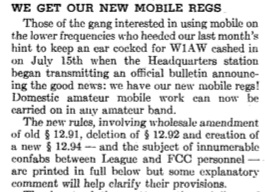 Well, we've come a long ways since then, but few know we almost lost the ability to operate HF mobile. When WWII hostilities started, amateur radio as we know it ceased. When it did return in 1945, mobile operation wasn't allowed below 28 MHz (Megacycles back then). That changed on July 14, 1948, as reported in the Happening of the Month column, in the September 1948 issue of QST.
In the sixty-six + years since those new regulations went into affect, we've seen a lot of milestones. Not the least of which was the transistor, but that's not the interesting part of the story. For example, some of today's new innovations, weren't (aren't) innovations at all, but rehashes of what's come before. Remotely controlled HF mobile antennas are one such item, and cap hats are another.
Most of the information was garnered from QST archives stored on CD-ROM, and of course the internet. As a result, several interesting side-lights cropped up too. On more than a few occasions, specific QST articles were republished a few months later, sometimes verbatim. Most of these reprints occurred during the mid to late 50s when amateur license numbers were stagnant. Another surprising fact, a lot of the art work we see published in the pages of the various ARRL publications nowadays came from the late 40s through the 50s publications.
Speaking of QST art work. Most of it came from Philip "Gil" Gildersleeve, W1CJD (sk, 1966). Over the years, he contributed some 1,500 cartoons and drawings which appear in the various ARRL publications, to this very day. There is even a book of them available from the ARRL's book store.
If you wish to do a little history research of your own, you can purchase the CD-ROMs on line, from the ARRL's book store. They're TIFF images, by the way. If you're a member, the files can be accessed on line (through 2010), in PDF format. Lastly, if you're an ARRL member, you can search the archives on-line, up through 2010, and thankfully in PDF format.
There are several web sites radio history buffs might be interested in. The RigPix data base is literally a photo history book of just about everything amateur. If a photo exists of your first radio, it is probably there.
Bill Jones, K8CU, is into old AM radios, and his site a loads of photos which can be used to identify most of the so-called cathedral designs popular in the 20s and 30s. If you're into foreign radios, this Russian site is also rich with photos, and other historical data.
The following chronology begins in 1946 when we regained mobile operation. Certainly, mobile operation was allowed previous to World War II, however, depending on the circa, separate licenses might have been required. When we're dealing with the eras in question, the internet isn't much help. For example, lessor know brands like SBE (Side-Band Engineers), there is precious little on-line information available. More popular brands, like Collins and Heathkit, one can rely on the various user groups to verify introduction dates. Nonetheless, some dates may be off a few months, but that isn't really important. After all, back in the day, most amateurs heard about new gear from other amateurs, but got the low down when their QST arrived in the mail.
1945: With the January issue, CQ Magazine begins publication.
1948: As of July 14, mobile radio returns to the lower bands (you could operate mobile only on 10 meters previously). What seems to us as common place now, wasn't back then.
1949: Suburban Radio Co. introduces the MT-15X, a mobile transmitter. Gonset introduces their 3-30 converter (car AM radio to amateur bands). Newark Electronics first post-war advertisement. Premax advertises ballmounts, whips, and masts. HFS National, first VHF receiver. Leese-Neville alternator introduced to amateurs. Two 'Gil' cartoons on the front covers of June & July depict mobile radio. First toroid core article. First walkie-talkie article (15 pounds worth). Mobile audio filter. First mobile install article. Premax base-loaded, 75 meter antenna introduced. HF transmitter built-in to Hudson dash board (talk about drilling holes!). First post-war SSB article appears in QST. First Master Mobile advertisement. Home brew 75 meter antenna article.
1950: Premax introduces center-loaded 2-8 MHz HF mobile antenna. Home brew, all-band HF antenna article. Tunable 75 meter antenna using a tuning slug. Happening column announces three state (Florida, Louisiana, and Mississippi) now have amateur license plates (it will take nearly 10 years for all 48 to comply). Mobile radio on three covers.
1951: Mobile loop antenna described. First how-to wiring article. Operating CW mobile on cover. How-to modify police radios for amateur use. First remotely-tuned HF transmitter uses Ledex rotary relays. First Heathkit. Mallard HF mobile antennas introduced with pie-wound coil (very lossy!). Hallicrafters introduces commercial hand-held (14 pounds).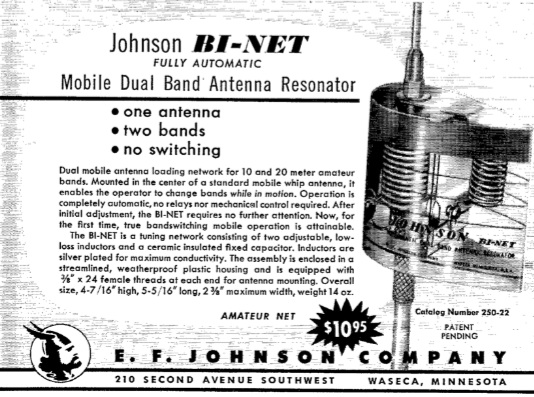 1952: First high-power mobile (400 watts). First cap hat described (incorrectly mounted atop the coil by the way). First ignition noise reduction how-to. Gonset Commander introduces (1.7 to 54 MHz AM receiver). Home brew, four-band mobile article. Introduction of Viking mobile transmitter (AM) kit.
1953: Webster Bandspanner introduced. First advertisement for Johnson Bi-Net HF mobile coil, the first truly automatic switching HF mobile antenna (I actually used one). Article on home-brew, two-band antenna includes references to proper bonding (a first). First of a series of articles by Jack Belrose, then VE3BLW (These articles are the basis for all mobile antenna articles to follow. All of them were reproduced in the first Mobile Handbook). Home Brew article on a remotely-tuned HF mobile antenna (it used a moveable brass slug controlled by a choke cable).
1954: AT-1 Heathkit introduces their first transmitter. While not a mobile radio, it started the company on the road to success. Heathkit AC-1 tuner introduced. Dyna-Q introduces first all-band, HF adjustable mobile coil. Jennings introduces first vacuum variable cap. Johnson introduces the Whip-Load, 5 band, base load mobile coil. First cap hap article appears. Morrow introduces the world's first, motorized, remotely controlled, all-band mobile antenna. Master Mobile introduces their first all-band antenna, but it is manually operated. First Vaaro HF antenna advertised. First mention of no-code license.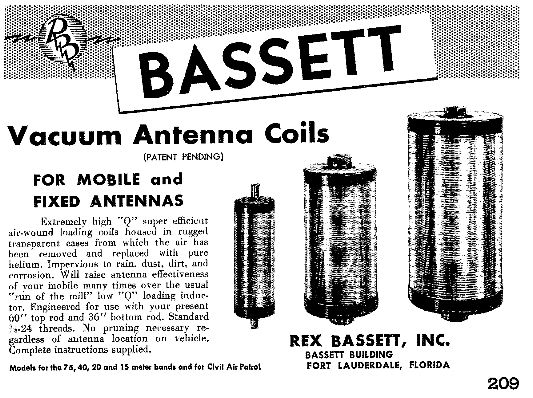 1955: Almost monthly articles on HF mobile operating, building, and modifications. Multiple articles on noise reduction. Master Mobile introduces their remotely controlled mobile matcher. First Shakespeare fiberglass whip advertised. First home brew, 3 tube, automatic antenna tuner. Gonset G66 SSB receiver introduced, and a few months later the matching G77 transmitter (sadly only AM). First Mobile Manual introduced with 353 pages, and 400 illustrations ($2.50). First full-page Master Mobile advertisements (life was good for them then). Bassett introduced their vacuum coils which were filled with helium (wonder how long the helium stayed put?).
1956: First home brew, all solid-state receiver article appeared (so far, no commercial ones yet, even hybrids). Regency ATC-1, introduces first all solid state mobile receiver converter. Rafred introduces their Autenna, remotely tuned HF antenna. RCA (a long time advertiser in QST) places their first transistor advertisement (their tube ads will continue for better than a decade). Lew McCoy's first mono match (SWR bridge) article. Two separate articles on remotely tuned antennas.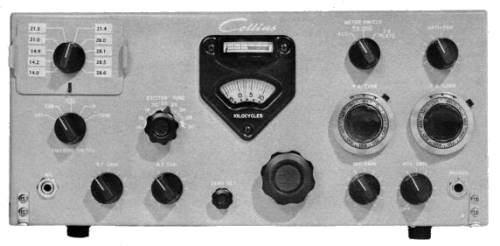 1957: Effective Jan 2, all amateurs required to own a Conelrad receiver (you never see these any more, and I wonder how many amateurs actually complied with the edict). First of many updates to the mono-match. Collins KWM-1, SSB transceiver available with a transistorized DC power supply (this radio started the windfall that pushed AM transmission out of the limelight, and into the shadows, although it took nearly 15 years to do so). Hallicrafters introduces the FPM-200 transistorized transceiver (another first that eventually spelled doom for the AM mode).
1958: Leese-Neville, 3-phase mobile power supply introduced. First commercial helical wound antenna appears. Mosley introduces first 3 band, trapped mobile antenna (I have never seen one, and have never talked to anyone who ever used one). First commercial toroid-cored, mobile DC power supply. Home brew 3 phase power supply how to. Collins KWM-1 (glowing) review, all 4 pages of it! Four page article appears (May) about 4 and 6 foot-long, helically-wound antennas.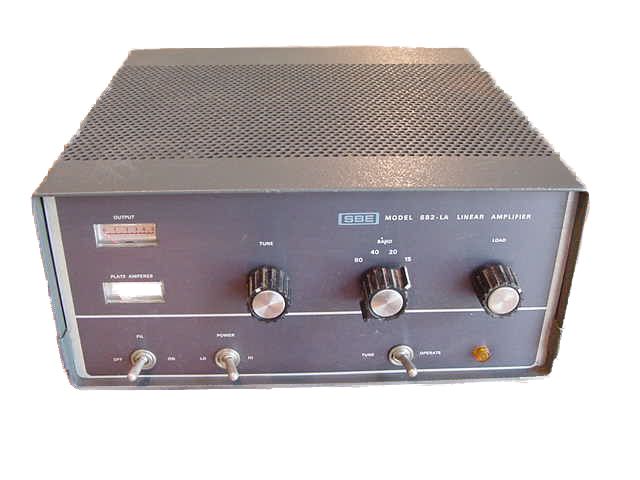 1959: There was very little mobile activity except for the reprinted article I mentioned above. I do not know the whole story, but the lore of the period would have you believe the ARRL was very strapped for cash. Many pro-con letters to the editor were written about the increases in dues, a fact which supports the lore.
1960: Heathkit introduces their MT-1 and MR-1, albeit meant for AM only. Gonset introduces their MSB-1, SSB transceiver (another stake in the heart of AM). Collins introduces the KWM-2, no doubt the final blow of AM superiority on the HF bands (from this point on, the switch to SSB was almost a watershed). First designed-for-mobile headset introduced. Heathkit solid state HP10, DC power supply introduced. Yuba Dalmotor Company of Santa Clara, CA. introduces their mobile kilowatt amplifier. It uses a vapor cooled tube. Photos are in the Photo Gallery (thanks Mel, K6KBE). The Mosley folks outdo themselves by introducing their 5 band, auto switching, base-loaded, HF mobile antenna (I've never seen one of these either). August cover shows a small A40 English Ford, with a station wagon load of gear to find room for, a fact we can all relate to today. With the October issue, 73-Amateur Radio Today began publication. It would last 43 years, with the September, 2003 being the last issue after advertising revenues failed to materialize.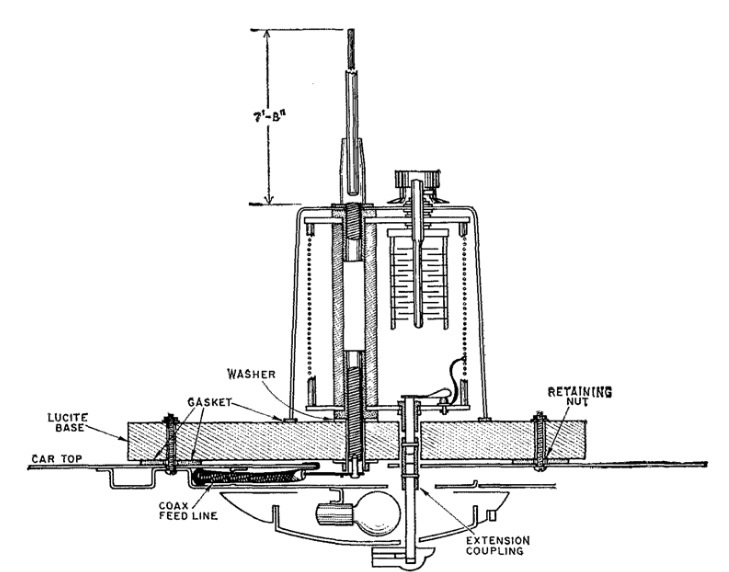 1961: There where a few mobile articles published, but no significant mobile radio introductions. There were plenty of advertisements for the antenna manufacturers, especially Master Mobile, Premax, Vaaro. One interesting installation, was a roof mounted, band switching mobile antenna. Nowadays, very few amateurs would even think about mounting an antenna as shown.
1962: There was a splattering of mobile related Technical Notes, and Hints and Kinks through out the year. No new equipment was released during the year. There is one interesting article written by Ed Tilton, W1HDQ (sk), covering a no holes mobile installation, albeit requiring sheet metal screws where they couldn't be easily seen.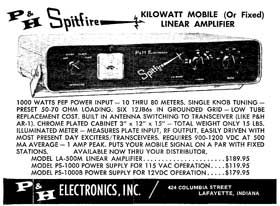 1963: Swan introduces the SW240, triband (20, 40, 75) SSB transceiver, and DC power supply (it was inexpensive by 1963 standards, and gave us poor amateurs a way to get on mobile SSB without filing for bankruptcy). Drake TR3 introduced replete with DC power supply. Master Mobile introduces their K-73 mobile amplifier, designed for mobile operation. They also introduces a 500 watt, DC power supply, for home brew mobile amplifiers (I have never have seen either unit). National NCX-3 introduced replete with DC power supply. Master Mobile introduces the first, commercial, mobile amplifier, the Go-Power which used a pair of 811As, and was self-contained. The first Hustler advertisement appeared. Heathkit introduces their HW-12, -22, -32, mobile monobanders and streamlined solid state DC power supply (this put the rest of us on mobile SSB). P&H introduces the Spitfire mobile amplifier running six 12JB6s sweep tubes.
1964: Another slow year for mobile operation. Most of us were preoccupied with the Vietnam war.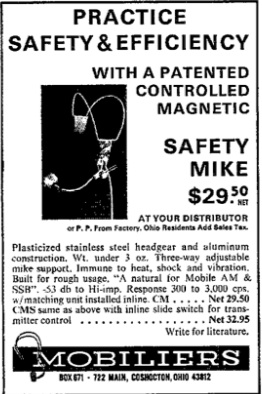 1965: Heathkit introduces the HA-14, mobile amplifier using a pair of 572Bs (advertised as 600 watts, mobile you were lucky to get 300, and the manual recommended it only in vehicles equipped with alternators!). SBE introduces both their SBE-34 transceiver, and their SB2LA amplifier (photo above). Both were available with AC and DC supplies.
1966: Other than a few Hints and Kinks, very little mobile article. Lots of mobile related ads, however.
1967: Several interesting articles, including one Connecticut Long Horn antenna. It was large, cumbersome, and assuredly lossier than it could have been. Tuning was by a brass slug in the base coil, and a folding cap hat mounted atop the coil. A two transistor noise blanker article by Doug DeMaw, W1CER, appeared in the January issue. It wasn't aimed at the mobile operator specifically albeit powered by 12 vdc.
1968: February is the first issue of Ham Radio magazine. The last issue was June 1990. The April issue has a nice article on remote antenna tuning using a rotary relay (Ledex). The Texas Bug Ketcher mobile antenna introduced, and Waters introduced their Bandadder; a spider arrangement of spirally-wound, and very lossy, stubs.
1969: World Radio Lab introduces their Duo-Bander (80-40) package. It includes the radio, power supply, and even a Bandspanner antenna replete with all the connectors. All for just $288.33! Swan introduces their Cygnet, five-band transceiver. It was a milestone in that it contains both AC and DC supplies. In the April issue of QST is an interesting hidden mobile antenna article. A section of the right side A pillar was removed, and replaced with epoxy. Talk about not drilling holes! The cover of the July issue of QST depicts the Alpha Special, mobile antenna, and a lengthy article supports the cover photo. The September issue details the building of a 80/40 meter automatic switching antenna. The scenario is similar to the one Swan would use a few years later in their 742 tribander. August issue of Ham Radio has their first HF mobile article.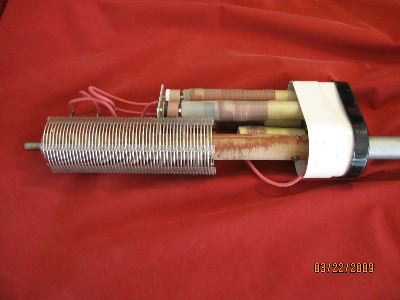 1970: If you think Heil was one of the first to market mobile operators, this ad (upper right) from the January issue will prove you wrong. The April issue of QST has a nice article on operating portable by adding a long wire to your 75 meter mobile antenna. HyGain introduces their Ham Cat mobile antenna series. The August issue of QST has a very interesting article on a based loaded, roof mounted, mobile antenna. Holes are drilled through the roof for the tuning controls.
1974: Herb Johnson, W6QKI (sk), of Swan fame, introduces his first Atlas. The model 180 covers 160 through 10 meters, is 100% solid state, and sports one of the best noise blankers in the business. A slide-in mobile mounting base, ferrite mobile antenna matching, auto-transformer become available late in the year. A digital readout soon follows.
1975: According to the League Lines column in the September issue, the Mobile Manual has been retired. It was replaced with the Repeater Manual. Atlas introduces the 215X and 210X, causing mobile operation to once again soar in popularity.
1975: Swan brought out their 742 triband mobile antenna about this time. It wasn't very successful due to its trap design.
1976: Cubic purchases Swan. Cubic uses the same basic housing as the SWAN 742, and comes out with a 5 band antenna as pictured here (M45?). Very few were made, and this one appears to be serial number 9. There are more photos in the Photo Gallery, under Old Time Radio.
1977: Icom introduces their now (in)famous IC-701, the first digitally synthesized transceiver. Too large for current mobile use, this author used one mobile for several years. KLM introduces their Force 5 mobile transceiver, but it never took off due in part to its microphone-based, push-button VFO. SST Electronics copies this author's mobile matcher (QST, March 1977, page 48), and manufactures it for sale. B&W introduces their AT200 which retunes an AM-FM antenna for use on 2 meters.
1978: The Alda 103 mobile tribander is introduced. Like its Cubic counterpart (both birthed by Herb Johnson of Swan fame), it never took off. It became apparent by late 1978, that Pacific Rim companies were taking over the amateur radio marketplace, especially the mobile one.
1979: Dentron introduces their 200A all solid state transceiver. Like other Dentron products of the era, it was almost stillborn.
1980: December issue of QST, page 30, has a nice article on building your own bug catcher. Page 62 has an article on wheelchair mobile.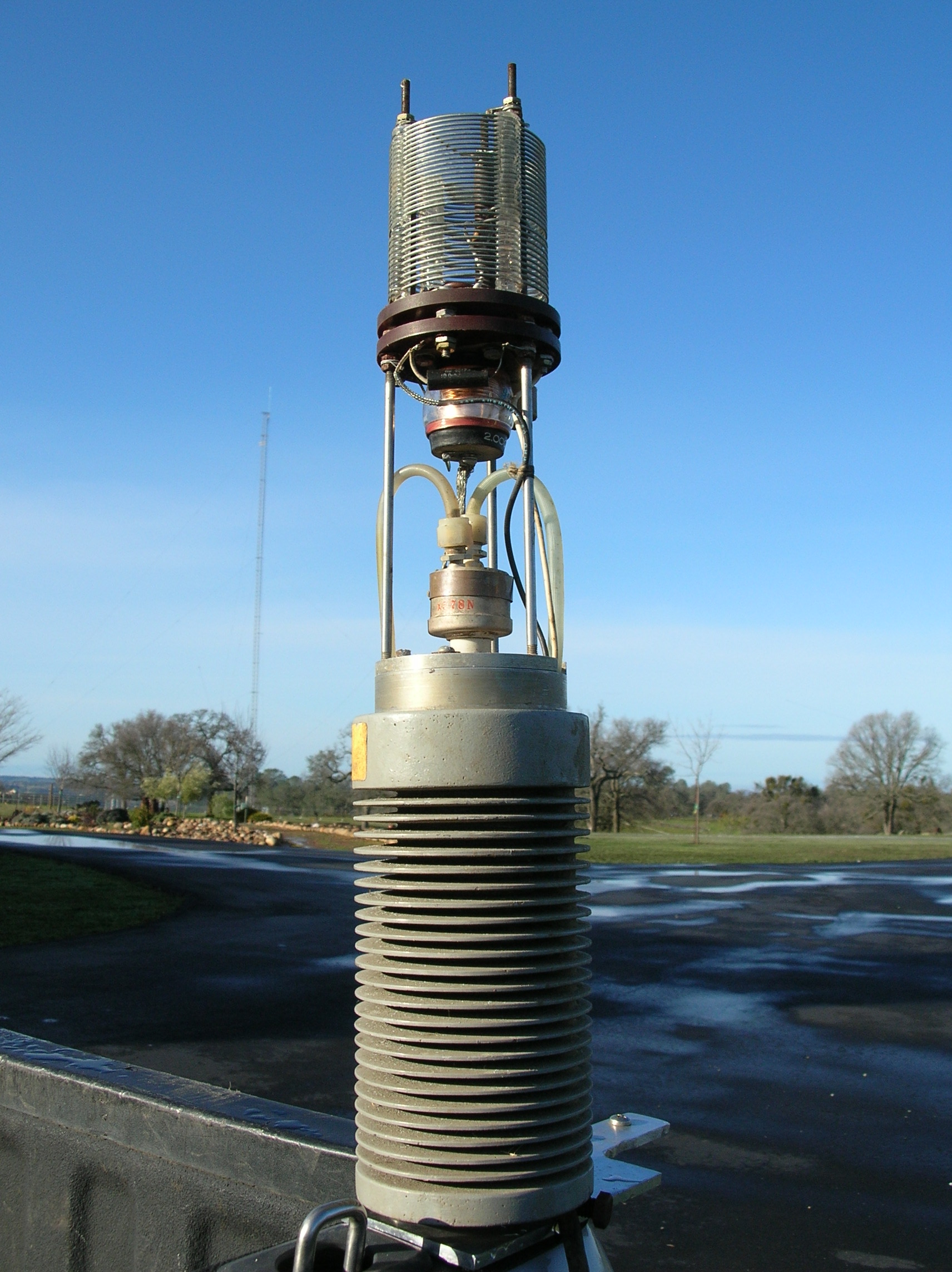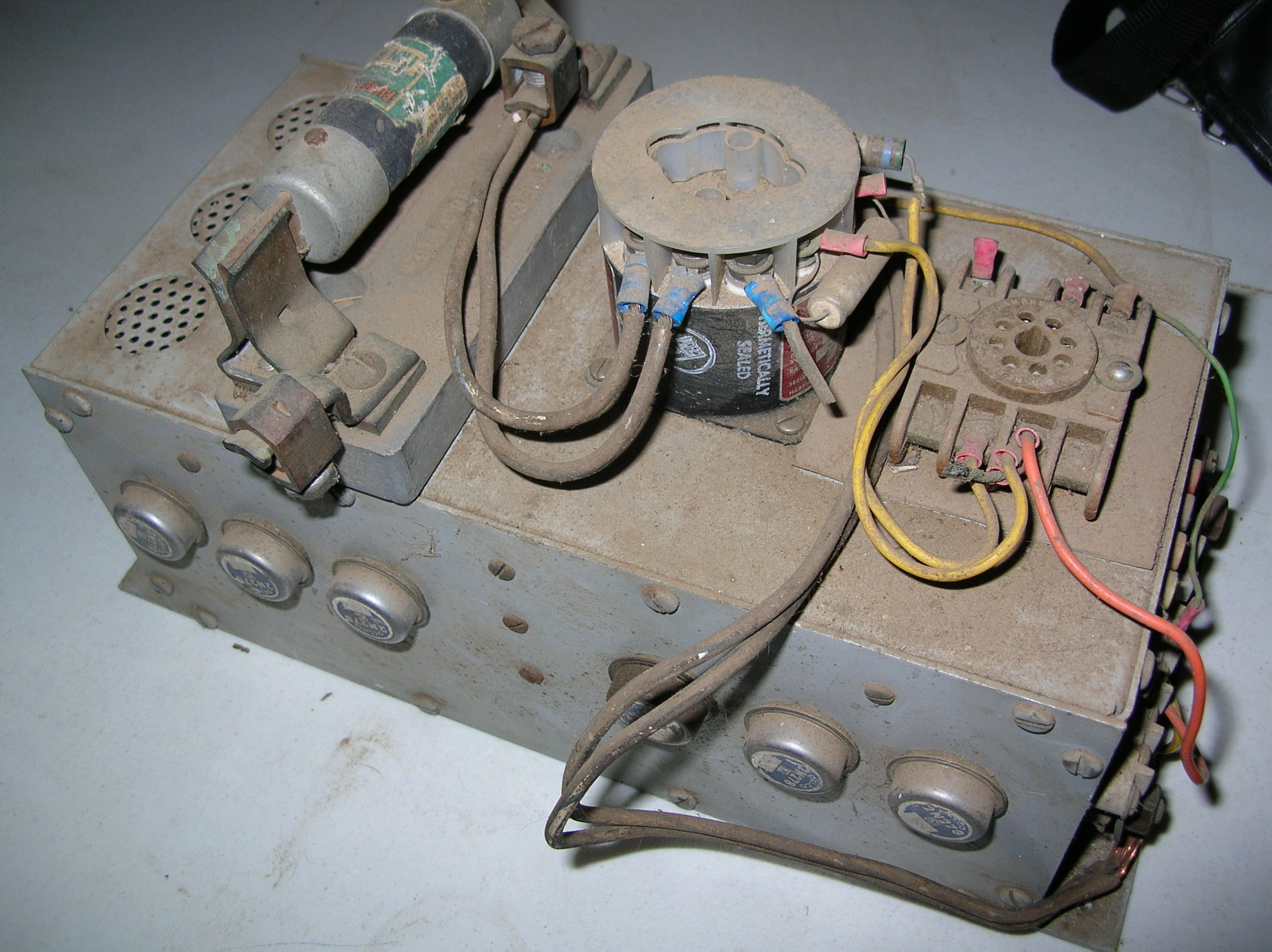 Some time back, Mel Farrer, K6KBE, sent me some photos of an old Dalmotor amplifier. Here is what he had to say: I would like to bring to your attention a probably little know product that was introduced to the amateur mobile market in about 1960 by Yuba Dalmotor Company of Santa Clara, CA. At least the instruction manual and schematics have a December 15, 1960 date.  It was the self contained liquid cooled DM1000A 1 KW SSB mobile amplifier and matching DMP1012A 12 VDC to 2700 VDC power inverter.  The amplifier used a liquid cooled version of the 4CX300 tube.  I am lucky to have the pair.  I have a few of pictures attached for you.  Jo Jennings was somehow involved with it, probably due to the vacuum variables used in the output tank circuit.  I would hate to have this fine example of early SSB product not get included in your history section.  I can answer any questions about the pair if you like. 
Here are two photos of it (click to enlarge, and wait a bit as they are large-sized), and there are two more in the Old Time Radio album of the Photo Gallery. There is a cover which fits over the whole assembly, and at the top is the ubiquitous 3/8x24 threaded boss where the antenna element plugged in. Apparently, the element was an unloaded whip of unknown length. The germanium, PNP switching transistors are 2N278s. They're rated at 15 amps of collector current. If they were in a push-pull switching circuit, the input would be very close to 1,000 watts. At the time this amplifier was produced, the average mobile transceiver put out about 50 watts PEP AM, which fits into the assumed basic design parameters. In any case, it is an interesting design from the period before SSB became the de facto standard. Too bad so few copies of nostalgic gear exist.